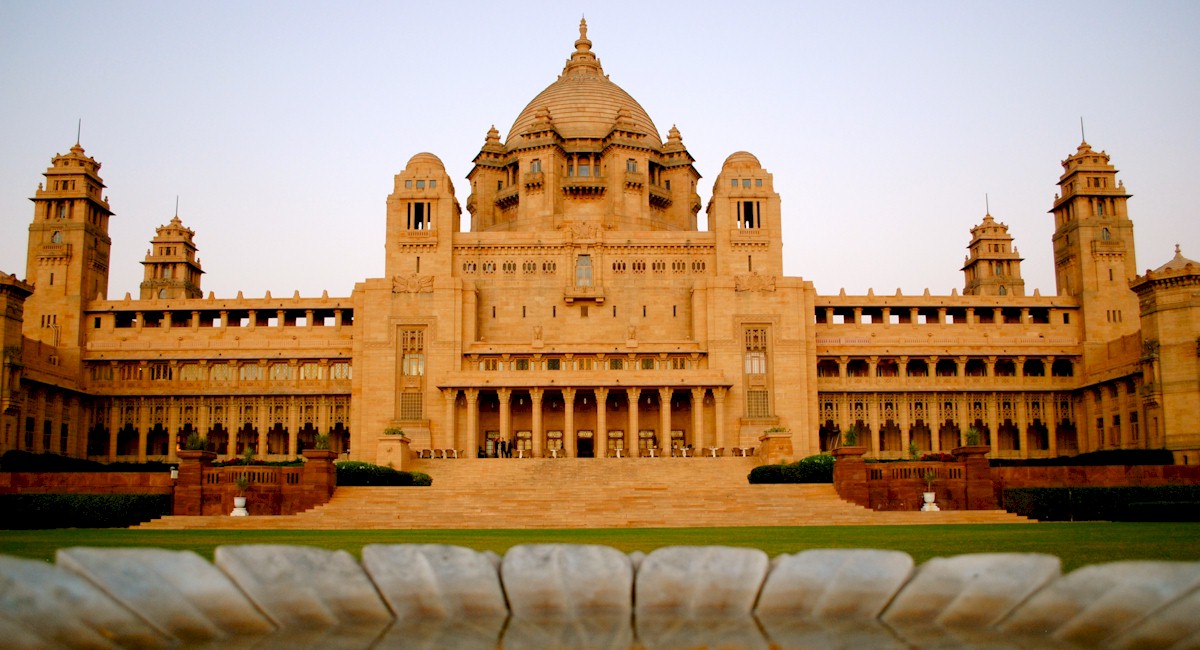 Umaid Bhawan Palace
Also known as Chittar Palace, this monument is divided into three areas, namely a heritage hotel, museum and the Maharaja's royal residence. Umaid Bhawan Palace is one of the most exclusive hotels of Jodhpur. An architectural marvel, it is equipped with all modern facilities and offers a royal experience.

Marbled squash courts, billiards rooms, a private museum and much more await you here. Visit the museum to see royal artifacts and armour, old clocks, glassware and other miniatures that are on display.
Mehrangarh Fort
A magnificent historical edifice that serves as the crowning glory of Jodhpur, this fort stands on top of a raised hillock that is 400 metres above the level of its surrounding terrains. With its sprawling expanse, it prides in being one of the largest forts present across the country. The eventful history, well-preserved heritage and impressive architecture of this fort make it the face of Jodhpur on national as well as global platform.
Mehrangarh – a word for 'fort of the sun' – was chosen as the name of this massive structure that is 500 yards long and features 120-feet high and 70-feet thick walls. Today, this fort is preserved and owned by Maharaja Gaj Singh II – the current Rathore ruler.

The highlights are its seven imposing entrances, which include the famous Jai Pol (victory gate) and Fateh Pol. Exquisitely designed palaces like Moti Mahal (Jodhpur Zenana), Sheesh Mahal, Takhat Vilas and Phul Mahal speak of the architectural splendour of the royals. Mirror work, intricate ornamentation, beautiful glass panel, alcove and impressive woodwork adorn these palatial buildings.

A large part of the Mehrangarh Fort has been converted into a heritage museum, which is one of the finest museums across the country. The three-storey Daulat Khana Gallery houses treasured artefacts related to Rathores. Visitors can purchase exclusive souvenirs from the museum shop, which is the only such shop in the country.
Jaswant Thada
The Jaswant Thada is an architectural marvel with intricate carvings. Famed as one of the most beautiful white marble cenotaphs, it was built in 1899 by Maharaja Sardar Singh in commemoration of his father Maharaja Jaswant Singh II. This white marble wonder of Rajasthan is often called the Taj Mahal of Marwar. The splendid edifice is a perfect example of Rajputana style of architecture. Its impeccable design and architecture is symbolic of the fine craftsmanship of the bygone era.

The main memorial is built like a temple, with beautiful domes and finely carved sculptures. Visitors can see here beautiful portraits of the various rulers of Jodhpur. The complex also features a memorial of a peacock that flew into a funeral pyre. Magnificently carved gazebos, an exquisite multi-tiered garden and a small lake surround the cremation ground.
Umed Garden Zoo
Meet exotic birds from Africa and Australia. Watch ducks and rabbits play among themselves as you visit the 'Walk-in Aviary' at the Umed Garden Zoo. This place is a must visit if you are travelling with kids. It promises a fun-filled and memorable experience in addition to loads of exciting photo opportunities.
Let children watch animals in their natural habitat as you visit the Umaid Garden Zoo in Jodhpur.
Government Museum
Visit the Government Museum to see a unique display of the rich collection of weapons, textiles, miniature portraits, local crafts and images of Jain Tirthankaras (sages). Other than that, you would find many interesting artifacts here. A visit to this popular museum is a must if you are a lover of history and archaeology.
Mandore Garden
Mandore Garden is a heritage spot, situated in its namesake town, towards the outskirts of Jodhpur. After the town was abandoned for the protection of the Mehrangarh Fort, the garden remained as a reminder of its glorious past. This garden has a high rock terrace, which is its most prominent attraction.

Cenotaphs (dewals) of Jodhpur's erstwhile rulers are dotted across this landscaped garden, which are different from those found in other regions of Rajasthan. These red sandstone cenotaphs resemble Hindu temples and have four storeys, elaborately designed columns and tall spires. Notable amongst these dewals include the memorial dedicated to Maharaja Ajit Singh and other built for the Maharani atop a hill.

The hall of heroes, dedicated to brave Rajput fighters and Hindu deities, lies close to these cenotaphs. Colourful rock statues and images of these heroes and Gods adorn this hall.

'The Shrine of the Three Hundred Million Gods' is an unmissable thing of interest in Mandore Garden. Vibrant illustrations of Hindu Gods are present here, which depict the brilliance of artists of those times. On climbing the nearby hill, visitors get to see the old palace and ruins of Mandore.
Phalodi Fort
Phalodi Fort is a historical site, located in the small city of Phalodi in Jodhpur. This imposing edifice was built in 1488 by Rao Hammir Narawat, the grandson of Rao Suja Maharaja of Jodhpur.
The fort reflects the fine work of artists of Marwar of the bygone era.
Rao Jodha Ji Statue
Rao Jodha Ji Statue is set on a small hilltop along the road that leads to Jaswant Thada (near the Mehrangarh Fort). It was built in the honour of Rao Jodha Ji, who founded the beautiful city of Jodhpur.
The statue, encircled by iron grills, depicts Rao Jodha Ji on a horse, pointing towards the fort. This magnificent statue was installed on 12th May 2012, the 554th Jodhpur Foundation Day.